Top 3 Common Health and Safety Hazards: How to Fight them
Tuesday, February 26, 2013
Every job comes with potential hazards, starting from a white collar worker who fell asleep in his car on his way to the office because he was sleep-deprived, or finishing in fire or explosion. And you don't necessarily have to work in a nuclear power station to expose your workers to risk. Job hazard analysis and risk mapping can help you foresee potential hazards and eliminate them.

"Job hazard analysis and risk mapping can help you foresee potential hazards and eliminate them."
Communicable Diseases
Colds and the flu can paralyze work of departments and result in missed deadlines, especially at certain times of the year. Our society's working culture plays it role in this: we encourage people to come to work when they are sick, first of all by limiting the number of sick days. Where one came to work with a fever, others will follow them to the hospital pretty soon thereafter. If they don't take care of themselves and become sick, productivity becomes really low.
Measures can be taken:
flexible sick leave
infrastructure for remote work
seasonal employee vaccination
Health & Safety trainings
Driving fatalities
The risk of fatal accidents en route to the office increases, the more sleep deprivation people experience, due to tight deadlines or a poor work-family balance. Car accidents also happen due to cellphone use when driving.
Measures can be taken:
predictable and regular work hours
measures to improve work-family balance (it can be childcare, elderly care, time off to spend with family, training or corporate policies dictating safe cell phone use)
Workplace Violence
Protecting your employees from criminal incidents, like robbery, which can take place near the office, is also a part of hazard management. In case your people come back from work late, especially if your office is situated far from populated areas, the route is not well-lit, then your people are at risk.
Measures can be taken:
think of risks that occur when your employees deal with money (cashpoints),
late or early working hours, and transport to and from the office
сonsider using cameras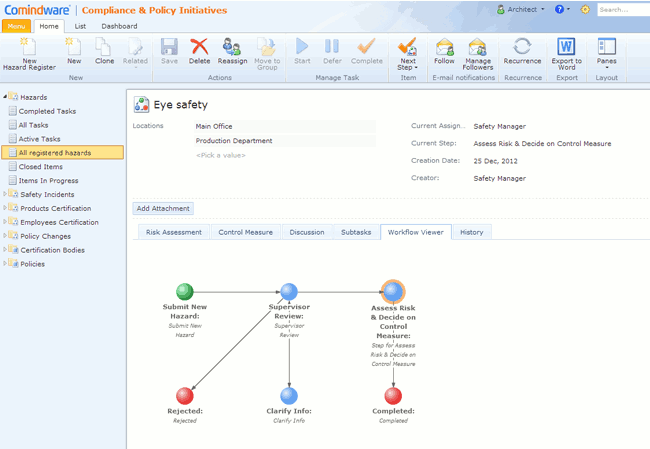 The risks your employees run, depend to a certain extent on what type of business you are. Foreseeing and eliminating them is an art and you can be a much better at it if you use our Compliance and Policy workflow software out-of-the box online solution that has the necessary templates and workflows for efficient hazard registration, analysis and management. You can try it out for free during 30 days and all you need to start work with the Compliance & Policy Solution is to get your credentials here.
---