How to Automate Document Approval Workflow
Tuesday, April 13, 2021
Most companies have an approval process that must be undertaken before new projects or processes can be developed or unveiled. This is to help ensure that all projects follow the appropriate process and that all aspects are approved by the appropriate parties before they begin.

What's Involved in the Approval Process?
The short answer to this is it depends. Companies go about formalizing and approving projects in different ways. It could be as simple as defining the process and the steps that need to be completed. This is the initial steps in most new projects and with automation software, this aspect can be more streamlined and efficient, allowing new projects and programs to be implemented in a timely fashion.
Process typically goes through a number of steps for approval, all of which can benefit from automation, which we will touch on later. The first step of the process is usually the submission of a project for approval.
Next, people will need to be assigned to the potential project to look into whether it meets the standards for approval. Each person who is assigned to the approval process should be given an appropriate level of permissions and timeframes should be used to ensure that the process can continue in a timely manner.
Automating the Approval Process
Just like workflow management, approval process can also be automated which reduces the amount of human input required to keep this process going and increases the efficiency by which processes can be approved and started. It can also help reduce the likelihood of error and create a documented set of steps that must be followed for any project to obtain approval.
There are many software tools designed to help automate and better streamline the approval process that can be used as standalone software or integrated into other software suites. Popular suites include SharePoint and Microsoft Flow, but there are a great many options available to choose from.
This software allows you to create clear, well-defined steps that make the process concise, easy to understand, and consistent. Many of the suites also include templates, which save you time in creating new workflows.
When looking for the best approval automation software, it can help to look for options that allow for customization. This will let you build your workflow specifically to meet your needs and gives you the ability to update or change elements if necessary.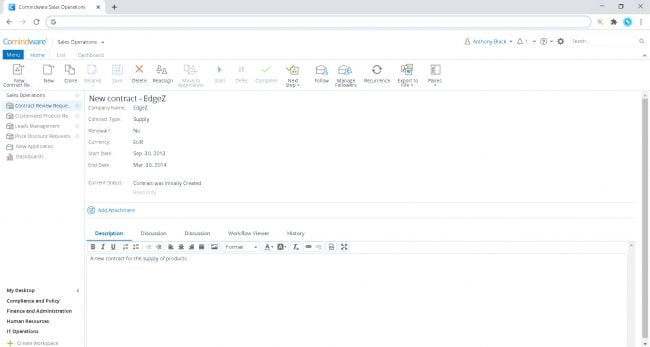 Design document approval request form easily and add necessary fields with drag and drop simplicity, with no need to stop your automated approval process.
If you have a lot of remote workers or people who do a lot of traveling, it may be helpful to look for a workflow management software that has mobile features that allow people to use the software from their mobile device, whether they are in the office or on-the-go. This is why so many people love cloud-based solutions as it gives relevant users access to the software, regardless of whether they are in the office or not.
Some software features signature collection features, which can make it easier and less time consuming to gather the appropriate signatures need to fully approve a new process or project. This can make it easier to verify and get a project approved, even if the party that needs to approve the project isn't in the office at the time.
Many suites of software will also allow for easy editing and the ability to solicit feedback. Users of these systems will have different experiences and their feedback can be used to better streamline and create a system that is accurate, efficient, and follows all the necessary steps needed for process approval.
In Closing
Document approval is just one of the many things that need to be approved before they can be acted upon and while this is an incredibly important step, it can be time-consuming and tedious. With automation software, you can easily define and set up steps to getting document approval without the need for regular input by many different parties. Automation software allows you to use templates to create a well-defined set of steps that need to be undertaken in order for a document or a process to receive approval.
There are a wide range of software options that will allow you to create a customizable and easily edited process for approval. If you have a lot of remote employees, you may wish to choose a cloud-based solution that has mobile features which allow users to access the system on the go. Software systems that allow for customization, easy editing, and user feedback are flexible to the changing needs of a company, whether large or small.
---