Project Management Software Trends for 2018
Tuesday, October 23, 2018
Changes in project workflow and the makeup of the workplace have impacted how many companies handle project management. Lately, there's been an emphasis on communication and collaboration, and on finding ways technology can make projects more efficient and transparent across team members.
Let's take a look at some of the biggest trends that are changing how companies get their work done in 2018:
It's All About Agile
In recent years many companies have shifted from traditional project management styles, like waterfall, to what's called 'Agile.' Agile processes call for a series of sprints with small, concrete milestones, which allows for quick turnaround of projects, with flexibility and iteration built into every stage.
Agile teams work collaboratively, without reliance on hierarchies, siloed teams, or massive project briefs. Designers, programmers, and testing teams are engaged in all phases of the project rather than doing each step as a stage of its own, as often happens with waterfall methods. Rather than starting with the final, complete project, work is broken down into smaller projects with independent milestones. This process leads to the quick development of an MVP (minimum viable product) that can be tested and improved upon, while creating short-term results that can be shown to management along the way.
On an Agile team, it's the project manager's job to make sure all team members remain in constant communication with one another and know what everyone is working on. This prevents issues like accidental duplication of work. Agile processes are iterative from start to finish, with flexible objectives that can change at each iteration.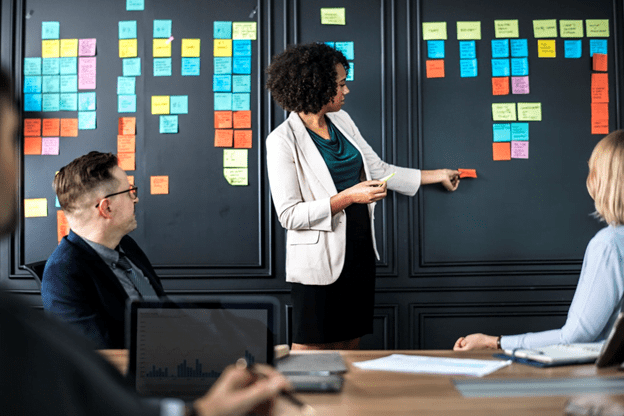 The flexibility that comes with Agile means there can be a lot of moving parts that need to be tracked and monitored, which means that a team using it needs to use project management software that's as flexible as the projects themselves. For a process like this, project management software has to do a lot more than help a PM plan project stages and timelines. It has to have communication and discussion capabilities built in, as well as be usable for everyone on the team.
Even if your company isn't using Agile methods now, it's the wave of the future. Small companies were the first to use Agile methodologies, but now it's being adopted at the enterprise level. Moreover, while software development was one of the first industries to embrace Agile, it's become more widely adopted recently, including across industries like construction, finance, and even marketing.
Younger Team Members & Project Managers
A closer look at the current workforce explains one of the reasons so many companies are trying out Agile methods: younger, more experimental team members.
As of 2016, millennials made up 38 percent of the workforce, a number that will increase every year as more enter the labor pool and baby boomers retire. Millennial employees—young adults, those born in the 1980s and 1990s—are tech-savvy, plugged into social media, and are on the hunt for fast-paced and meaningful places to work.
And they're increasingly having an impact on their employers. In a recent article, The New York Times Magazine suggests that millennials "wield an incredible amount of economic and cultural power," forcing companies to keep up with a significant cultural shift.
Younger employees' style of working explains one of the reasons Agile has become so popular: millennials embrace technology. When it comes to teamwork, these employees often prefer online tools for communication over in-person meetings, phone calls, or email. They like working on collaborative teams m rather than in hierarchical structures or silos. And they're looking for tools that are lightweight and high-performing, with a preference for those that bring a sense of humor into the workplace.
When it comes to software, you'll be successful if you anticipate how your team works best. While a tried-and-true, one-size-fits-all project management tool might have worked in the past, it's likely that such products will feel stodgy and bloated to younger employees.
Robots In Our Project Management?
Everyone's talking about artificial intelligence and the Internet of Things (or IoT). What this means in the context of project management is that we should expect more from our software.
Project management benefits from artificial intelligence in all kinds of ways. With some tools, once a project manager enters data, the software can calculate anticipated timelines and deadlines. It can also help you determine individual workers' productivity and efficiency. Automated calculations like this can help a team figure out what's on track and what's falling behind.
But today's software can do more than simply review stages of a project. With IoT technology, you can build in reminders, automate tasks like invoicing, and even track physical assets. If your company deals in retail sales, your software can help you track how many of a specific product has sold, calculating inventory needs on the fly. You can also use sensors to track the movement of vehicles or machinery usage, record equipment replacement cycles and schedule regular maintenance, and send automatic messages to your employees as milestones are reached. Features like these can be used to enhance turnaround time on project development and limit downtime due to equipment malfunctions.
For some companies, artificial intelligence also means that workers typically not part of the project management system, such as those in receivables and distribution, or builders on construction sites, now can be looped directly into the overall project planning process.
Project management tools are also becoming more integrated. In addition to project tracking itself, more tools are building in other types of tracking and analysis. You can now find risk management, communication, ticket tracking, invoicing, timesheets, and other detailed data analysis all built into project management software.
Project Transparency
In the past, most project management software would be used only by team leaders and project managers themselves. Other members of the team were assigned tasks and project managers checked in with them on their progress, and as tasks were finished, the project managers marked stages as complete.
The combination of Agile workflows and small teams mean that it's more common now for everyone on a project team to need access to the PM software. As noted above, Agile processes bring the entire team into the project management world, meaning it's helpful to provide transparency to the entire project lifecycle. No longer do projects have a single designated project manager who's in charge of the steps and communicates them in a one-way flow. Now everyone needs to view the stages of a project and offer input, often including company executives.
With so many people participating in the execution of a project, it's imperative that everyone can use—and understand—the software you choose. Having multiple views (grids, Gantt charts, Kanban boards, and calendars, just for starters) allows people to access the information in ways that work for their different project roles and personal preferences.
Collaboration and the Cloud
More and more companies are choosing to hire remote workers or allowing employees to work from home for part of the work week. In fact, 55% of hiring managers agreeing that remote work is becoming more common, and 63% of companies having at least one remote worker.
The trend towards a more distributed, remote workforce means that a growing number of companies have different software needs than they would if they were managing onsite employees. In particular, distributed teams need a way to communicate as if they were all in the same office. Further complicating the process, with fully-remote teams, companies may have employees all over the world, which means that a lot of the workplace conversation is happening asynchronously, while one team member is asleep or out of office.
To address these needs, cloud-based software solutions address the needs of a distributed company. Such software needs to be operating-system agnostic, working on a variety of devices. Because information is transmitted over the Internet, it should also include security protocols to protect sensitive and proprietary data. Most of all, it needs to run fast without lagging, and allow for multiple people to view and interact with documents simultaneously.
Data is King
Project managers determine a project's success by reviewing all the metrics. How long did everything take? Did they hit all their milestones? Did it stay within budget? If not, where did they fail to? Was it delivered on time or did they fall behind schedule? How many hours did a project take in total? And so on.
The best project management software takes all of the project data into account and provides easy-to-use reporting tools that can be used at all stages of the process. Even better are those tools that allow for enhanced data collection, customizable filters, and complex analytics.
This ties in with the above note about artificial intelligence and smart algorithms in project management tools. Increasingly, project management software can help visualize data and allow project managers to analyze a process on the fly, as well as forecast future issues based on past trends.
The Bottom Line in Project Management Software
There are a lot of project management apps to look at, but if you want to stay on the cutting-edge of software trends, here are a few things you should look for:
Project planning and scheduling features that are easy for the entire team to use and understand
Cloud-based rather than installed on individual computers or on an in-house network
Mobile capabilities
Integrated communication tools (including group chat, email or one-to-one messaging, and/or comments)
Risk management, ticket tracking, time sheets, and other functionality
Multiple view options, including grids (spreadsheet), Gantt charts, calendars, and cards/kanban boards
Time tracking and/or estimating
Reporting (with easy-to-export analytics)
Budgeting and forecasting
When choosing your project management solution, make sure you're taking into account both your company's existing needs, as well as what may be coming around the corner.
---