3 Steps to Improved Customer Relations: Involve Senior Management
Wednesday, March 13, 2013
In Part 1, we looked at the concept of giving something away for free to your project customer as a way of improving overall customer relations. Everyone likes 'free' – especially if they need what they are getting for free.

In this Part 2 we'll discuss the idea of involving your senior management in the project as a way of improving the client-vendor relationship. Few things make your customer feel more important than seeing or hearing the delivery organization's CEO in a meeting with them or on a regular customer status call.
"Few things make your customer feel more important than seeing or hearing the delivery organization's CEO in a meeting with them or on a regular customer status call."
Paving the way
The last thing you want is to drag in a senior representative of your company into a status call with the project customer and have them know nothing about the project or the customer or any important issues that may be discussed on the call. You don't want just a figurehead on the call – that could end up harming your project more than helping it.
Ideally, you have been keeping your project visible to senior management by sending them a copy of your weekly customer packet of revised status report, budget status, issues list, and project schedule – or at the very least the revised status report. If so, then they have no excuse to be at least somewhat up to speed. And if not, then now is the time to start sending your project info to them on a regular basis. Make them tell you they don't want to see it – and then the onus is on them for that decision.
Meet with the target representative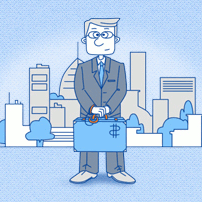 Next, contact someone on the executive team and lay out your project plan. Explain the issues – if there are any – and why you want them to be on the call. Help them get up to speed on any key issues or things that might be discussed on the call with the customer. As I stated, they need to participate on the call to at least some degree and sound knowledgeable or it won't do anything to improve your customer relations.
Connecting senior management with the customer
Finally, conduct the call and introduce the individual at the beginning of the call when you do your normal 'role call' on the conference line. If there is a specific topic that they are there to address then you can mention it. If they are present just to boost customer confidence and satisfaction, then just include them in proper high-level topical discussions as you see fit on the call. Some productive participation will do the trick… they won't need to be actively participating throughout the call unless there is a major issue being discussed that will monopolize the entire call.
Summary
No matter what, when the executive management of any organization is represented in project client meetings, that project client feels like they are having the red carpet rolled out for them. Typically, the project customer has been paying top dollar for a project manager who – while being extremely capable and professional – still sits much lower in the organizational hierarchy than the senior management of the company.
So whether you're experiencing problems on the project or not, your customer will feel like their project is now very important and visible to your organization just by the mere presence of your CEO or whoever sits in on the next status call or key meeting with your project customer. Improved – or just boosted – customer relations will be the likely result.
---