Business Process Analysis: From Definition to Examples
Tuesday, December 8, 2020
Business process analysis is an important and not well-understood aspect of business management. The term refers to a set of methods used to track and learn about the efficiency of various business processes. It is a means by which one can determine how well their strategic planning is working and how well they are meeting any set goals.
Without a good business process analysis, there is a lot of wasted time, inefficiency, and delays when it comes to meeting specific goals. When you have a good means of business process analysis, you can easily see how well the business is working towards goals, where inefficiencies may lay, and even determining potential problems and how they might be addressed.

What is business process analysis?
It is important to understand that there is a difference between business process analysis and business analysis. The latter refers to overall business operations and macro issues, whereas business process analysis refers to steps within a specific process. This is typically used on the core functions of any business and can help troubleshoot, solve problems, as well as improve various parts of the process. How well does the process meet the needs it is designed to address? How can it be improved? These are questions that can be answered with business process analysis.
Some key ways business process analysis can help:
Determining aspects or areas causing issues or delays
Learning what does and doesn't work in a given process
Deciding whether to scrap, change, or completely redo a business process
Determining whether the process is as efficient as it can be
There are tons of great choices when it comes to business process analysis software and much of it, such as that we offer here at Comindware, helps to automate and dramatically increase the efficiency of this process, providing untold benefits to businesses large and small. One can see the myriad of benefits that can result from using this software and it is a great way to troubleshoot processes that seem to be running inefficiently or regularly causing issues, errors, or delays.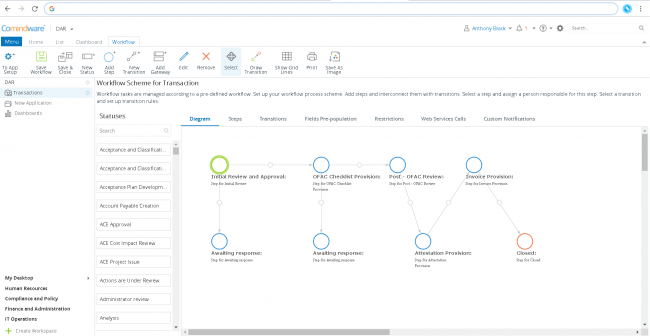 With software like this, you can work to identify where delays are occurring, what aspects of the process are running slowly or inefficiently, what processes need to be revisited or edited, and more. A good, thorough analysis can be helpful for employees or other people involved in the process that are struggling to visualize or understand a given process.
Business process analysis examples
While it can be easy to understand the value of business process analysis conceptually, it might be a bit more difficult to figure out in the specific context of the work you are doing. There are several common business process analysis examples that are regularly used by businesses large and small that we will briefly touch on here.
Root cause analysis:
this type of analysis is used to determine what caused a process not to work and what aspects can be addressed to fix it.
Observation: as the name implies, this allows you to simply watch a process and see how it plays out to determine whether there needs change. There is also a subset of this that is often called experience observation, which entails watching and talking to those involved in the process being analyzed to get their input and see what issues they have noticed.
Value-added analysis: this lets you determine whether a particular process or aspect within a process adds value and if it doesn't, it may be removed.
Gap analysis: this allows you to determine whether there are aspects, functions, or tasks in a process that are missing so they can be fixed.
These examples show how this software can help streamline, improve outcomes, and give warning that a process is not functioning optimally. It provides for greater transparency and sharing of information between parties within the organization. It allows one to see how a process is performing, troubleshoot, and even provide better new employee training and guidance.
In closing
It is vital to ensure that any process your business runs is performing the function it is designed for in an efficient and meaningful way. Business process analysis refers to looking deep into each aspect of a process to determine whether it is the most efficient means of achieving a goal or not. Analysis also helps you find and root out inefficiencies or issues within a given process that could be slowing the entire process down. Process management and analysis software provides invaluable ability to improve the effectiveness of strategic planning and make it easier to achieve the desired goals.
---