Adaptive business process management from Outlook
Wednesday, October 16, 2013
Adaptive business process management means that whenever you have a new turn in your existing business processes, your BPM system quickly adapts to them. And we have already spoken about its benefits in one of our posts
In a couple of words, it means that you no longer have to manage ad hoc processes manually just because your BPM system is too heavy and you can't configure it to tie it up closer to the existing ad hoc situation. In this case, when you use Comindware Tracker, you can simply create as many sub-tasks as you need to resolve the situation and this proves to be much more controllable, accountable and efficient rather than simple emails, which we usually turn to in case of any unexpected change in routine processes. So how exactly can you use adaptive BPM in Outlook?

Whenever your process is stuck mid flow, don't panic. No email management. Simply open the workflow task which goes through the process in trouble directly from your Outlook. For how to configure your Outlook to work with processes you can read here.
Once your process workflow task card is Open in your Outlook, simply hit the'add new subtask' button and assign the responsible person for the task, and provide some detail: the system will do the rest for you. The person in question will receive an email alert about the new task. The new task will contain all the data from the parent item, including attachments, detail and with the additional information you might insert into the sub-task fields.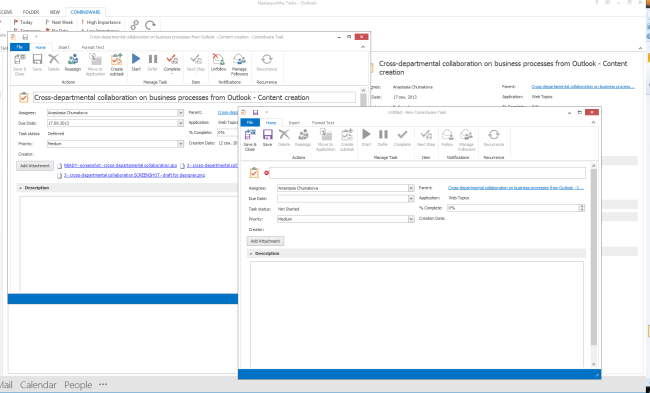 You can create as many sub-tasks as needed. The workflow task will follow further down the process only after all of the subtasks are completed – it's automated this way. So all the actions taken in the new ad-hoc section of the existing routine process become perfectly controllable, accountable and visible.
This way, Comindware Tracker brings adaptive BPM to your Outlook where you can work efficiently, collaborate with your team and organize your project in the best possible way. As usual, you're one click away from this experience, as you can request your free 30-day trial here.
---